CellNtech
Need New Devices? Visit Our Gadget Shop in NW Calgary
Every one of us needs new devices for different reasons, like managing work and socializing better. We are your go-to shop to buy iPhone in NW Calgary, and other modern gadgets. 
CellNtech has a wide range of new devices to match your demands and fulfill your requirements. Get your favorite phones, tablets, and laptops at budget-friendly prices and great trade-in deals.
Learn More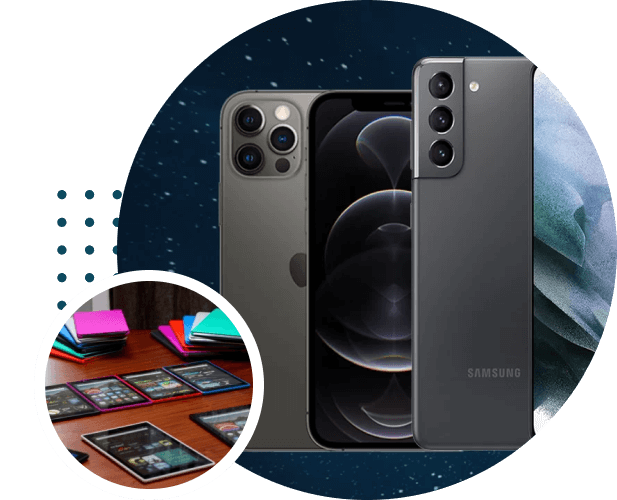 Get New Electronic Devices at Affordable Rates
Now, everyone wants new technology and devices to make their lives easier and to socialize more with their friends, family and with the general audience. There are thousands of devices now exciting in this world, but no reliable resources are available from where you can buy these devices with a warranty and trust. CellNTech is one of the leading networks that deal with their clients with integrity-honesty and showcase empathy when it comes to purchasing any device. 
When you see thousands shops of buying and selling devices, you always look around for a reliable resource, and finding the right place for it is as difficult as you think. CellNTech is a one-stop shop you can buy your cell from. Whenever you look to buy technology or any Electronic Gadget, consider CellNTech. Our values are based on Integrity-Honesty-Diligence and Transparency that help customers choose us every time.
"*" indicates required fields
Benefit From Great Trade-In Deals
Do you want to get rid of an old phone, laptop, tablet, or another tech device? CellNtech offers you great and budget-friendly deals to purchase these devices without breaking your bank. We have the newest models of these gadgets, offering modern features and greater efficiency at work. 
Also, if you're looking to upgrade to a better model, you can buy phones, laptops, and other devices through suitable trade-in deals at our store, along with our cellphone repair services. All you have to do is bring your current gadget to us, bargain a price for it, choose a new phone or tablet you want to buy, and trade it for the alternate you've chosen.

Testimonials
Feedback From Our Happy Clients

Rachel Ewurum
3 months ago


The best place to come for your repairs. They are efficient, flexible, and timely. I came in for LCD replacement and later for Battery for Samsung A70. I highly recommend.

Jason Stewart
8 months ago


Amazing service!! I needed to get my Galaxy S10 battery replaced as my phone was bulging. They informed me that it would take a day to order the battery, which is totally reasonable. Then 15 mins later they called me back to tell me they did indeed have some in stock and that I could come right away if I wanted.

Sarah
5 months ago


I had an incredible experience at Cell N Tech, I had an issue with my headphones jack and it took only 20 minutes for them to figure out and resolve the problem, they were really nice and a great experience compared to some other stores that aren't as nice, thanks again!!

Adriana Mccoy
3 months ago


I dropped off my 5 year old son's X Box for HDMI repair. Varun was a true professional and honest. He was able to fix it in just one day.